In my early teens I inherited a Grundig tape recorder from my grandfather Walter Conning. I already owned a small japanese recorder; now with two, a new world of possibilities opened up. Every book available on tape recording techniques and musique concrète was checked out of Macclesfield Town Library and avidly pored over. In fact I think there was only one book, but it was a good one.
I began two projects, recording my own tape experiments at home and recording songs via tape bouncing techniques with a school friend named Tim Shearer, who currently runs the excellent Confingo literary magazine. When I was around 15 I sent a tape of my experiments to John Peel, and he graciously admitted to being impressed by the sounds I had conjured out of bits of tubing, a trombone mouthpiece and some squeaking toys borrowed from my infant sister. But he was careful to say that there probably wasn't much of a career in it.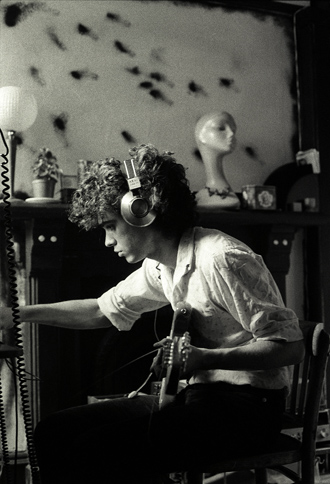 These more abstract sound outings continued in London with The Lines, and in the summer of 1980 a cassette only compilation was released, sold by mail order via a flyer that was inserted in the first edition of the Cool Snap EP. It wasn't credited to The Lines at the time, but it was us, together with Martin Mossop and other friends. It wasn't really until the Therapy album that these more abstract sounds became a part of our main repertoire.
A remaster of this has long been on my list of things to do. There are some exerpts on the Acute Records Memory Span page: select SOUND and then Rituals of the House.