It was a busy winter. We played more gigs during that season than at any other period. We also jettisoned most of our repertoire and wrote a new one. I became a father and was promptly evicted from my home and exiled from Stoke Newington, ending up with infant son Tom and his mother in a semi-derelict flat in Southwark. Soon after that the Brixton riots began.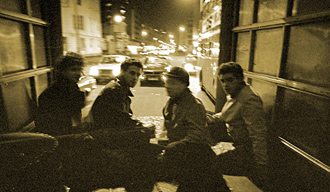 A John Peel session from January 1981 catches us in transition between old set and new. One of the new songs was the appropriately titled Transit, which underwent something of a rewrite between January and its recording in April at our first session in Blackwing Studios, engineered by the estimable Eric Radcliffe and John Fryer, who were to curate most of our subsequent releases of that era.
All kinds of amazing music was being made at Blackwing by artists from the fledgling Mute and 4AD labels. One day we arrived at the studio to find Vince Clarke and Alison Moyet finishing up a song called Only You. Not the kind of thing you forget. The 4AD version of Song To The Siren sung by Liz Fraser was recorded there…gives me goosebumps just thinking about it. And I have previously mentioned my obsession with Dome, a project by Graham Lewis and Bruce Gilbert…my quest to discover their secrets led me to Eric, who schooled me in the art of the externally triggered noise gate.
Happy as we were with Blackwing, it has to be said that once again the John Peel version has a certain extra intensity. However I still feel that the rewrite is the better song. At the time, not everyone agreed with me.