So began my incredible "winter of darkness" (as I remember it) in which I co-produced the albums Opus Dei by Laibach and Children of God by Swans. The first of these projects began in November 1986 when I flew to Ljubljana, Slovenia (then still part of Yugoslavia) with my trusty Akai S900 and a big wad of cash to pay for studio sessions.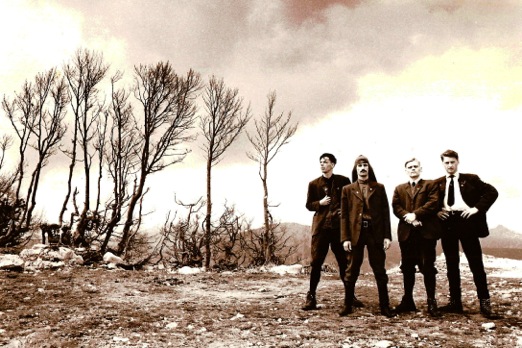 I'd been expecting to further refine the montage techniques used on Nova Akropola, and I suppose we did in a way. Laibach love to nonpluss, though, and they evidently enjoyed my reaction when breaking the news that they wanted to do a version of the Queen track One Vision in German, and versions of the cheesy euro hit Life is Life in both English and German.
As it turned out these songs were the centerpiece of the album and represented the future for Laibach. The more familiarly collaged tracks, good as they were, served as "entr'actes" to the main programme.
Laibach had the benefit of a wide pool of local talent at their disposal, and when I say that, I have honestly never seen anything like it: superb musicians, technical staff, cooks, growers of a certain smoking mixture favoured by your devoted auteur, you name it. A gifted orchestrator (code name Nightingale) who wished to remain anonymous for fear of reprisal did a truly spectacular job on the cover versions, and played a lot of the parts himself on an Emulator III. The local working men's choir came down to sing on the German Life is Life (Leben Heißt Leben) which may be the single most glorious session I have ever conducted.
When I referred to this as my "winter of darkness" I'm certainly not referring to the mood of the sessions. Laibach were a particularly uproarious bunch, completely entertained by what they were doing, and my main memory of them is the sound of laughter.
One day two of the lads took me and a visiting Japanese girl up to the mountains to enjoy the spectacular scenery. We came upon a four-seater sleigh and without thinking twice jumped into it and plummeted down the mountainside with no idea of where we'd end up.