We started gigging, at first parties at such environs as North West London anarchist squat hideout Centro Iberico, where one William Orbit was residing in the lodge. We soon graduated to supporting better known bands such as Bauhaus, The Cure and Charles Shaar Murray's excellent blues combo Blast Furnace And The Heatwaves.
A slightly awkward thing was our reluctance to play White Night, which at that time just didn't feel like something I wanted to play, it seemed from the dim and distant past, and in any case was rather hard to pull off without Hywel's guitar. Naturally, a lot of people who came to see us were hoping to hear us play that song.
Before long it became obvious that, with or without White Night, we needed another guitar, and so a new member was added in the form of Mick Linehan, Alternative TV refugee and general poet of sound.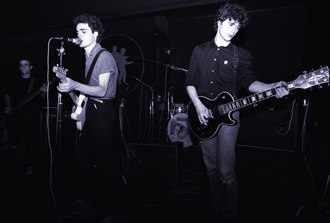 We did a heck of a lot of rehearsing, and Mick fit right in immediately, as evidenced by a John Peel session in January 1980 which really shows us gaining tightness and confidence.
Then a couple of months later we checked into Alaska Studio on London's South Bank, with Pat Collier of Vibrators fame at the controls. In one day we threw down every song we had at the time, one of which was Blisstability. Although the vocal is ropey, and the Talking Heads influence perhaps a tad too obvious, I think this illustrates quite well the heights of tightness we were able to attain by intensive rehearsal.
Of course, having attained that, we soon got bored with it.
Blisstability was re-recorded once, at our second John Peel session. "Cumbersome title" opined Mr Peel, sounding uncharacteristically irritable, not without reason I suppose.
It was finally released on the Memory Span compilation from Acute Records, and also on the highly recommended compilation Messthenics #102.