The advent of "rave culture" propelled Jeremy Healy into that top tier of superstar DJs, where he has remained to this day. He also had a record label called More Protein, in partnership with his old mate, the estimable Boy George. Their first release was Everything Starts With An E.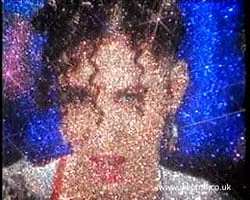 You won't see this one listed on my Discogs resumé; it was done under the alias, given to me by Jeremy, of Sir Frederick Leighton. Truth be told, Sir Fred was a bit of a lost soul: somewhat above it all, but also an outlier; forced, despite his heightened sensibilities, to grub around with the salt of the earth to earn his crust. And yet more truth be told, Sir Fred was somewhat appalled by Everything Starts With An E. In fact he thought it was a fucking nightmare, MC Kinky's fierce performance seeming to convey the sensation of being dragged into a parallel universe by a yellow DMT goblin of questionable intentions.
Obviously this impression informed the musical parts I added to the track. There is a pervasive atmosphere of doom, and at one point the gates of hell open up, with deep droning synths and apocalyptic choirs ushering sinful partygoers across the stygian divide.
Now here's a funny thing. As a result of this remix I became the secret co-author of a Renegade Soundwave classic, a fact they probably aren't even aware of themselves.
In 1990 RSW did their own mix of Everything Starts With An E. As usual their mix has the best bass line. They also used quite a few of the elements I had added to the track. Two years later they released their own Women Respond To Bass, which itself included some elements of the E-Zee Posse track, including, bang in the middle, the "gates of hell" section! Those mischievous magpies…